I sat down with my mentoree Dawn (pictured here) to discuss her experience with Iyengar Yoga and talk about a new class she is offering this fall.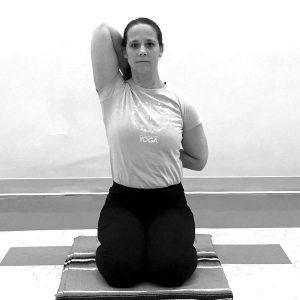 Aaron Fleming: Hi Dawn, tell us a little about yourself.
Dawn Baurichter: In addition to yoga I enjoy being outside, traveling to national parks and walking the trails. I also enjoy bike riding, but I've been so busy with work that I haven't made it out much this season.—I work as an athletic trainer at a sports medicine facility. I've been married for 14 years and we like to go to the beach. I'm involved with USRowing as a referee, formerly I coached at Clermont Crew and UC and competed as a club rower when I was studying at University of Cincinnati.
Aaron: How were you introduced to yoga?
Dawn: I took my first yoga class in 1997. That teacher moved away and an Iyengar Yoga teacher took over for her. At the time I was in search of a meaningful path, that was not religious, and Iyengar Yoga filled that void for me. It taught me to focus and also reign in some of my excess mental energy. I enjoy the consistency and methodology of Iyengar Yoga.
Aaron: When did you decide to work toward Iyengar Yoga teacher certification?
Dawn: Yoga has helped me in so many ways. I want to share the practice with others and help them discover what yoga means to them–how it can help on a physical, mental and emotional level. I had been a student for years before I was inspired to learn to teach. I started learning to teach at Crescent Hill Yoga, in 2012, where I took a teacher training class with Karen O'bannon (a senior Iyengar Yoga teacher who has since passed away). The past several years I have been mentoring with you and plan to go up for certification assessment next year.
Aaron: You are starting a new class on Wednesdays at 6:15 p.m. Can you describe it? Who can take the class?
Dawn: Yes, I am starting a new Intro level class at College Hill Yoga on Wednesdays at 6:15-7:15 p.m. The class will be every week beginning Sept. 18. The cost is $10 per class. You can pay each time you come so there's not a big commitment. Students registered in the other classes can attend as one of their make-ups. This will be a one hour quick moving class. We will still be slowing down to learn the poses but then pick up the pace to practice them. We will move from pose to pose focusing on the foundation elements of each asana. It will be fun!
The class is good for anyone new to yoga or new to Iyengar Yoga. I don't think it would be good though for students who need a slower pace or need extra time for specific prop set ups.